The Cleaners who attend our Toilet Managers Training will never look at their job the same way. They would have realized how important their contributions are to society. They would perform their job so well that everyone would notice the professionalism in them. They would have acquired basic skills in plumbing, electrical, carpentry and masonry to carry out prompt repair works. Some 60 cleaners from various organizations had attended this training over four days.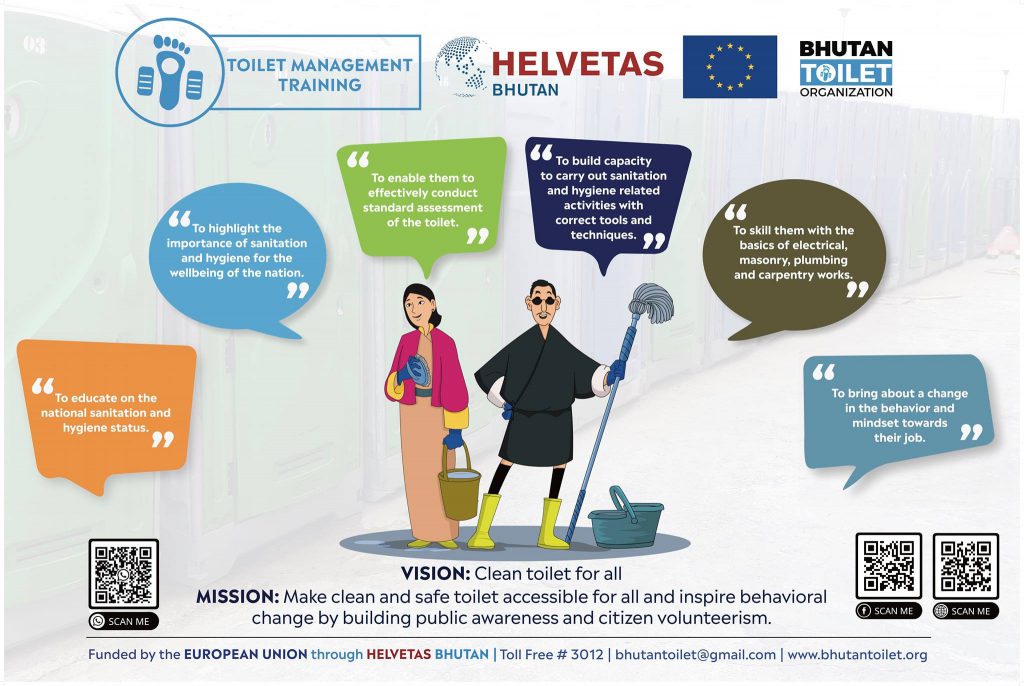 First Batch of Toilet Management Training completed with 30 cleaners from various organizations in Thimphu.
With the second batch of Toilet Managers Training completed we have trained 60 cleaners to perceive and perform their job a little better than they have been doing. The participants expressed how it was an eye-opener, and how motivated they are to put their new knowledge into practice. Along with the certificates, we gave them a set of PPE to enable them to maintain personal safety while working.
Besides that we wrote a letter to their bosses, requesting them to buy a list of tools to enable their cleaners to perform their job effectively. A few of the offices called back to seek advice on which tools to buy from where. We hope the rest will also make that happen. The training is funded by EU Helvetas, through CSO grant program. HELVETAS Swiss Intercooperation Bhutan
For helping us design the training and for all the beautiful graphics works, thank you iBEST STUDIOS